Welcome to Organically At Your Best
Using only the finest organic skin care line by Eminence Organics and doTerrra's pure therapeutic grade essential oils, we customize all our treatments to our client's specific concerns and needs ensuring your treatment will be the best you've ever had.
We offer a variety of facials, multiple massage services, healing Reiki treatments, waxing, and make-up application with Jane Iredale's mineral cosmetics.
Within our spa we have created a comfortable, rejuvenating, and relaxing environment where we invite you to feel at home. Stay and relax before or after your treatment. Whatever you choose, we look forward to accommodating you and helping you look and feel your absolute best..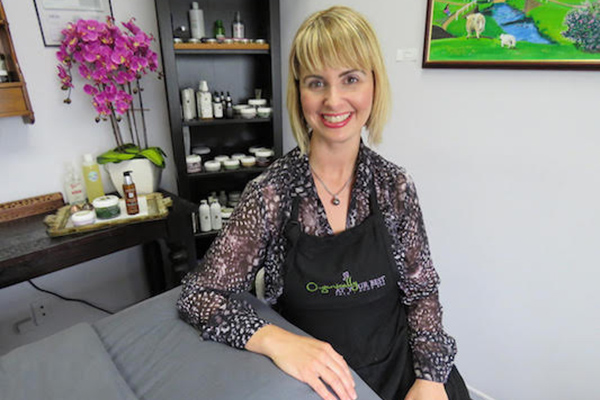 Rebecca Chere, Owner & Esthetician
Rebecca Chere is an experienced esthetician and now spa owner who prides herself in using all organic products. Specializing in Eminence Organic facials, see Rebecca for all of your facial and waxing needs. Her facials feature acupressure, lymphatic drainage, Hungarian massage techniques, and heated stones. After your you will immediately notice a lift in both your skin and your mood.
Jackie Behr, Esthetician
Jackie Behr is an experienced esthetician who customizes every facial to fit her client's special needs. She specializes in treating aging, sensitive, and acneic skin conditions. She incorporates classic European massage techniques as well as acupressure and lymphatic drainage. She uses Eminence Organic Skin Care and offers Microdermabrasion and waxing services. After a facial with Jackie you will feel rejuvenated and see the results you were looking for.
Satya Reyes, Esthetician and Reiki Master Healer
Satya Reyes has been a licensed Esthetician and Reiki Master healer for over 15years. She specializes in natural skin care for the whole family and believes that true beauty is a reflection of your inner radiance. Each of her unique facials includes the loving energy of Reiki as well as clean, high result skin care. One facial and you'll look and feel more beautiful, inside and out! Reiki is a Japanese technique for stress reduction and relaxation that also promotes healing on all levels. Reiki is a simple, natural and safe form of light touch healing. You'll feel a wonderful glowing radiance flow through and around you leaving you light and refreshed.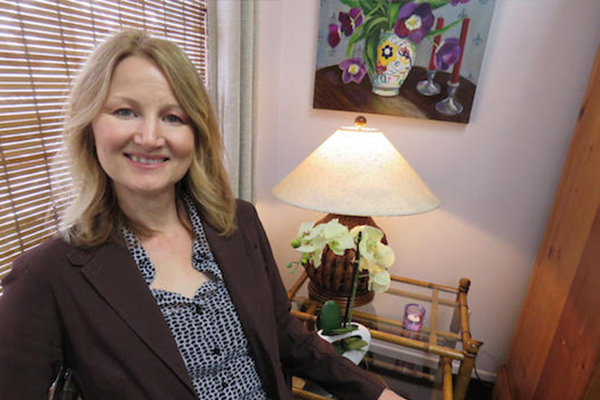 Sandy Cooley, Massage Therapist Certified in Orthobionomy
Sandy is a highly trained and gifted massage therapist that has been in the business for ten years. Her specialty is Central Nervous System work which is unique to the massage therapy field. "CNS" work relaxes tight, shortened muscles, which creates a domino effect through out the entire body, naturally bringing balance and calming the mind. You will truly feel changed after a massage with Sandy.
Erin Ennis, Esthetician
After struggling with cystic acne for most of her teen and young adult years, Erin decided to help others achieve beautiful skin no matter what their skin type. After graduating from California State University, Long Beach, she turned her focus to skincare, becoming a licensed esthetician in 2004. Doing so has not only changed her skin for the better, but her life path as well. Erin has discovered that skin care and helping others is her life's passion. Her area of expertise is comprised of result-oriented facial treatments, as well as, waxing and makeup application. Erin uses her years of knowledge and experience to educate her clients, on maintenance, repair, and prevention for their own skin's continued health. Erin's care is enhanced by the use of high-quality products such as, Éminence Organic Skincare, clients can use these products to achieve their individual skincare goals.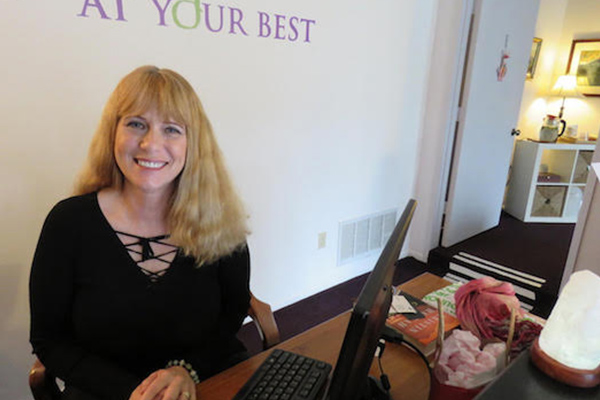 Kathy Vasquez, Manager
Kathy started out at OAYB as a client and she quickly became part of the OAYB family. She jokes that she loved being at the spa so much that she figured she might as well work here. Kathy is a key component at OAYB and keeps the spa running smoothly while also helping our clientele with their needs and making them feel at home. Her friendly personality and outstanding customer service completely embodies the OAYB spirit.